Luangpor Tae Khongthong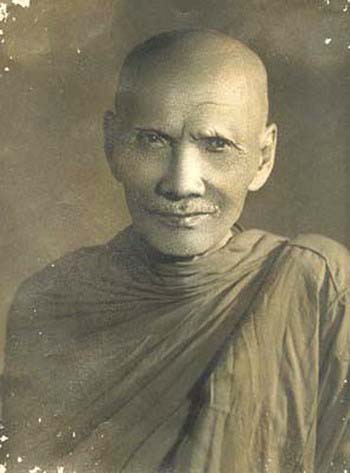 "The best Gumarnthong of all times"
For the better guru monk who made Gumarnthong can compare to Luangpor Tae, there're none. When people searching for the best and most powerful Buddha amulets from Thailand, they are PhraSomdej WatRakhang by SomdejToh. For the best and most powerful Gumarnthong amulets/statues, they are Gumarnthong by Luangpor Tae Khongthong from WatSamngam. A great legendary guru monk of Thailand, who is a master of Luangpor Yam WatSamngam.
When the great King Rama 9th visit the monk, he's only visit the best monk in the land of Buddha. And Luangpor Tae Khongthong visited by the King.
King Rama 9th visited Luangpu Tae Khongthong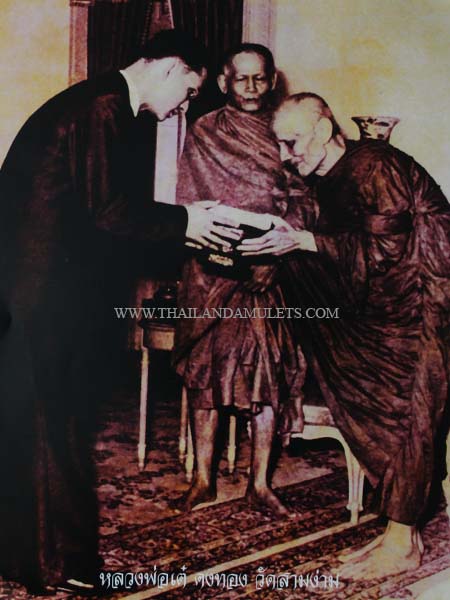 King's mother visited Luangpor Tae Khongthong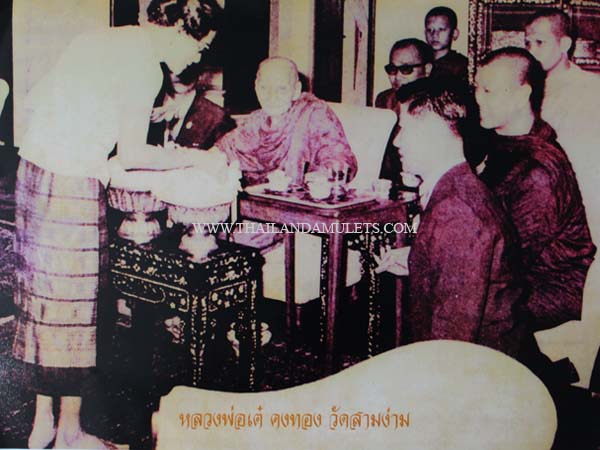 Gumarnthong are famous in Thailand, they're image of the old thai boy with top knot hair style,made famous by the warlord name "Khunpan" used them since the war time to protect him in the battlefield, warned from dangers, and grant him successful wishes.
At present day, people use Gumarnthong to help achieve in career, successful in business purpose, bring fast wealth luck fortune and good income, help in relationship, bring love and respect from people, people use Gumarnthong to protect their home, protect their treasure and precious belonging, protect their love one and family. Gumarnthong help owner protect from dangers and misfortune, protection from evils/darkness.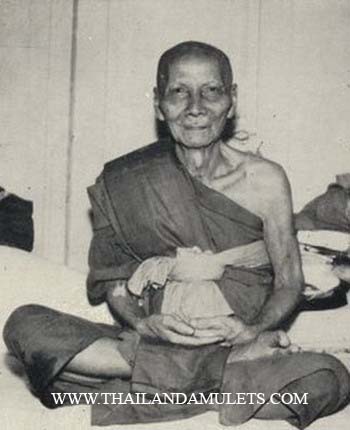 For those who worship and use Gumarnthong, their life is being blessed by their spirits for all times which same with any gods/devas or their ancestors spirits. Gumarnthong is a souls of boys/girls who died before their right time, wander until the monk invite them by ritual to the part of Buddha's hood(Monk's Gumarnthong). Gumarnthong come to help people to conduct their own karma,. They share the good karma together whenever their owner conducted, and so does the bad karma as well, which is why gumarnthong are famous, it is like Yin and Yang(Black and White), they're depend on how people will treat and use them, they're powerful and fast as they'll want their own karma through their owner.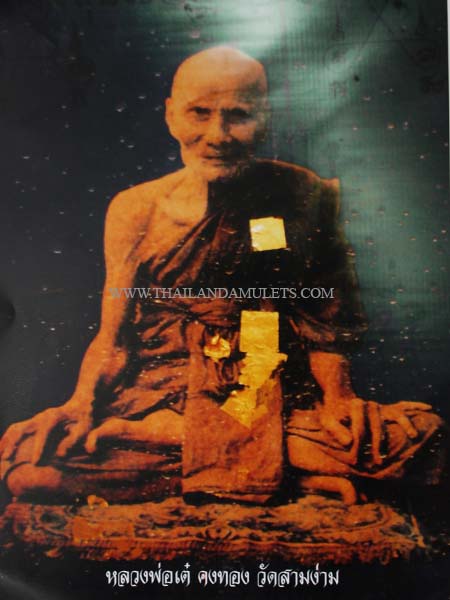 Gumarnthong alway need to keep important in mind that they'll become very powerful specialy made by a great monk like Luangpor Tae who know exactly how to builded the ceremony, chanted invited the souls to come and bless the wearer from the statues/amulets. When time passed by and people alway treat, worship and pray to them. They blessing strong miracle in every way.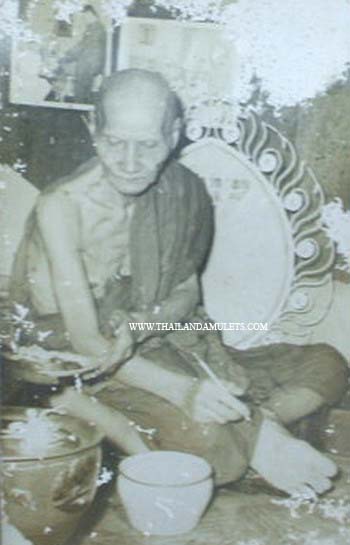 Luangpor Tae is one of the most famous guru monk in Thailand who made Gumarnthong. His Gumarnthong is top chart of holy items in Thailand, and when come to the best Gumarnthong that people searching for worship, they're his Gumarnthong. People willing to pay any amount to get a hold of his holy items. But most important thing that Thailandamulets.com provide, is that these have to be 100% real and genuine, once the wearer worship, something great and powerful blessing to their owner.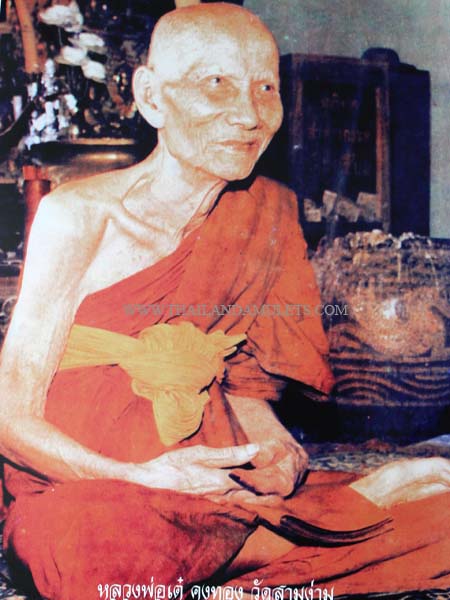 Luangpor Tae Khongtong born on Monday 15 June b.e.2434, year of rabbit at BarnSamngarm village Nakhonpathom province. Father name "Jan" and mother name "Bu", surname "Samngamnoi". 7 brothers/sisters. Luangpor Tae is the 5th of the family.
When Luangpor Tae is 7 years old, he ordained as junior monk at WatGarlong Samutsakorn province, studied dharma and spellls for 3 years from his uncle, the famous abbot by the time, Luanglung "Dang" of WatGarlong.
At the time, Luangplung Dang see that there's no buddhist temple in the Dorntoom village area of Nakhonpathom province. He asked Luangpor Tae, he told him that he'll builded the temple at Dorntoom village.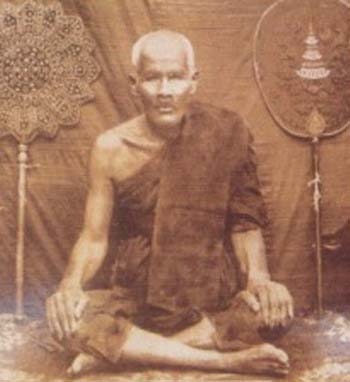 Luangpor Tar WatPaneangtak
When 21st years old. Luangpor Tae ordained become senior monk which holding full precept. Ordained by Luangpor Tar WatPaneangtak, famous guru monk at the time. Given title in the monk hood "KhongThong"(StillGold). Luangpor Tar was the powerful magician monk of thailand, just like Luangpu Sook fromWatPakrongmakarmtao. Luangpor Tar had pass down all his knownledge spells to Luangpor Tae, also gumatarn meditation.
Not for long that LuangplungDang the 1st abbot of WatSamngam had passed away. Luangpor Tae then have to come back to WatSamngam to look after the temple and blessing the villagers, he then become the abbot of WatSamngarm later on.
Like any old guru monk, Luangpor Tae start his pilgrimage to earn experience and test his own knowledge and karma alone among forest/cave from b.e.2455-2472 for 17 years.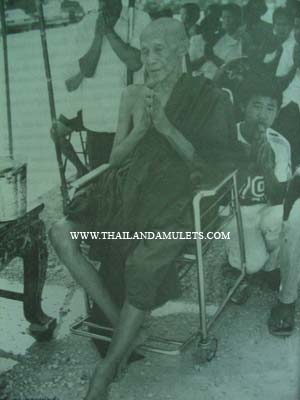 Luangpor Cham WatTarkong
Luangpor Tae also become a disciple of Luangpor Cham WatTarkong, a cambudian magician monk at the time, he had learned how to consecrate powerful items from him. And many master during his pilgrimage until he success how to awaken the elements and invited spirits to make Gumarnthong, regards his knownledge(Vicha) spells that he had learned, Luangpor Tae wouldn't be able to have a bath more than ten years.
In B.E.2475, Luangpor Tae become offcial abbot of WatSamngam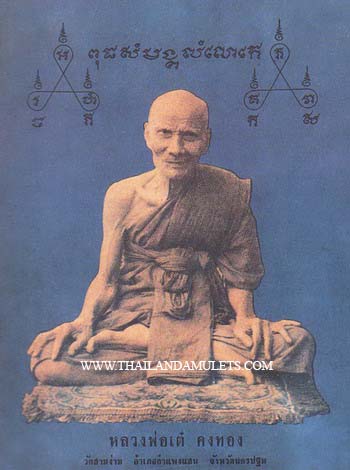 In B.E.2476, Luangpor Tae made many holy items, before the world-war 2 which each of them been said by many people to grant fast and powerful miracles. The most famous of all his items blessing both in Thailand and overseas are his Gumarnthong. The Gumarthong batch b.e.2510-12 that Thailandamulets.com provided, Luangpor Tae handmade them in the crematory by himself. Chanting while burning the died body of kids which died in their mother, blessing and dedicate good karma for them to their next world, leaving their spirit attachement on this world only their holy spirits to help people with miracle.
Once Luangpor Tae finished made these Gumarnthong, he bring back to his room. Chanted them for years and then let go for donation.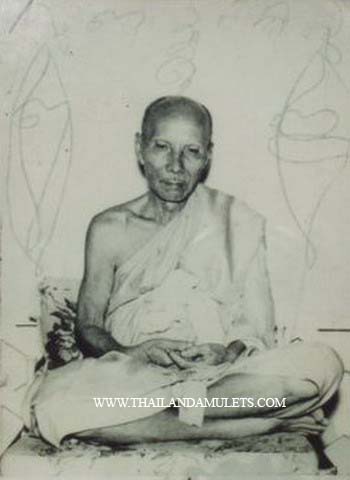 Luangpor Tae Khongthong passed away on 25 December b.e.2524 at an age of 80 year old 6 months 10 days. 59 years serving in the monk hood. At present his body still at WatSamngam for people to visit to pray and worship.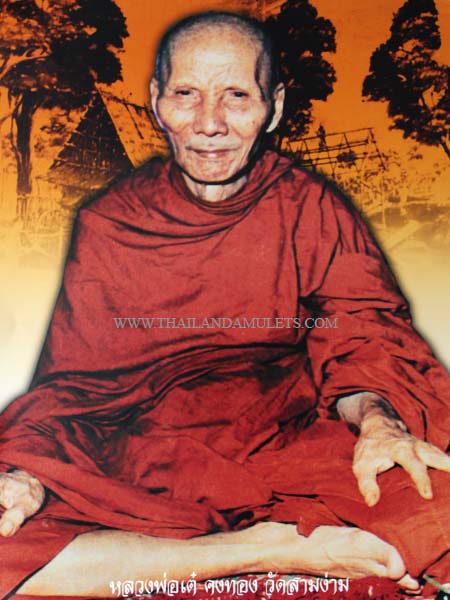 Thailandamulets.com are honest to say that these amulets/statues we got are from a very respectful elder from inside the palace, royal family surname "Suthat Na Ayuttaya" who help builded WatSamngam until present day, and was Luangpor Tae's supporter from the temple. It is honour and very great opportunity that we have known with respect to the elder, and he willing to give that chance to let go of genuine Lp.Tae's Gumarnthong to people through our website, so people can worship and bring donation to WatSamngam. To bring good fortune to their life and worship Gumarnthong with respect like Luangpor Tae teach us himself. (Thailandamulets.com official temple agent) It is well-known by many collectors that Lp.Tae's gumarnthong are many fake among thailand and oversea market, but not here at Thailandamulets.com. The best of Thailand Amulets at Thailandamulets.com / Thailandamulet.com
Many magazine have posted Lp.Tae's Gumarnthong
Luangpor Tae's Gumarnthong batch b.e.2510-12(1967-1969)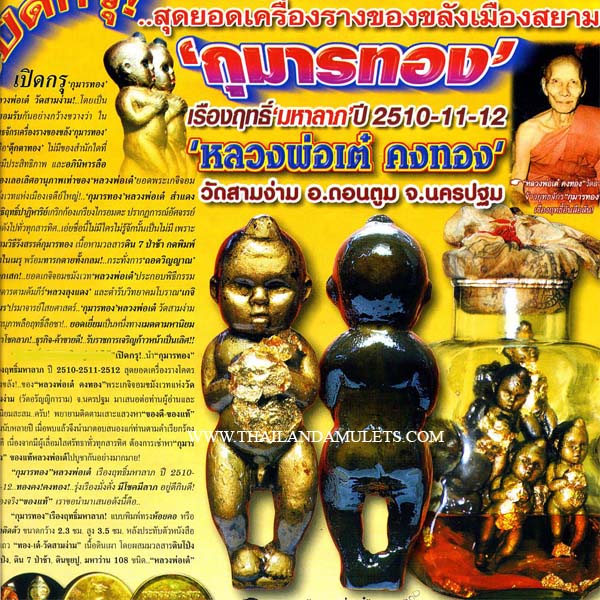 Stunning with the best Gumarnthong. Num-Mun-Plai the gumarnthong's oil which use together with Gumarnthong are very famous of all and were made and use by many master, each made from different way regards their own knowledge spells and master. This batch Gumarnthong Chae Num-Mun-Plai-Gumarn made by Luangpor Tae in b.e.2510, size of 9 cm approx. All of these gumarnthong batch b.e.2510-12 are gold plated at the heart center by Luangpor Tae and solo bless/chant every day by Luangpor Tae himself for years. Powerful blessing with num-mun-plai, old time keep safe in the bottle with rosary cover with payan at the top by Luangpor Tae Rare and precious, the best Gumarnthong from Thailand.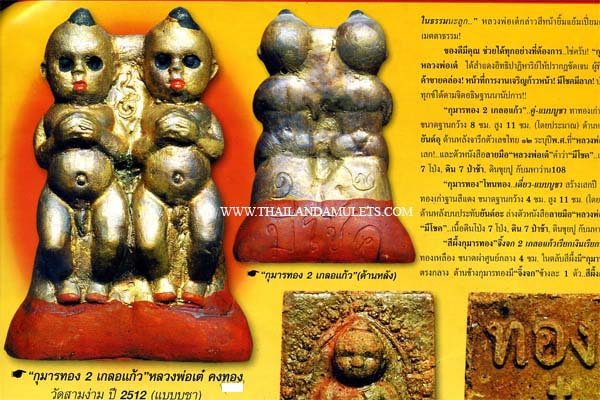 Gumarnthong Gler-Gaw. The twin gumarnthong backside wrote "12" year of the gumarnthong were handmade b.e.2512 by Luangpor Tae. LuangporTae's hand written "Mee-Choak" to have good luck fortune. The Gumarnthong plated with thai gold, size 8x11cm approx. Use 7 soils 7 graveyard, Kui-pu Soil, 108 herbs. Powerful gumarnthong by Luangpor Tae WatSamngam.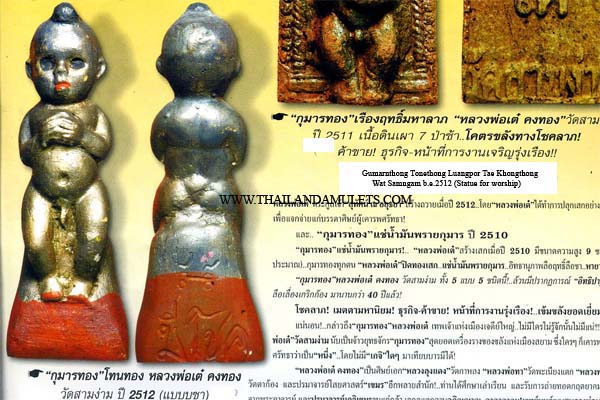 Gumarnthong Tone-Thong handmade one standing up Gumarnthong for worship b.e.2512 plated with old thai gold, size 4×11 cm approx. Backside the yans(spells letter) call "A", buttom Lp.Tae's hand written "Mee-Choak" to have good luck fortune, Use 7 soils 7 graveyard, Kui-pu Soil, 108 herbs. Powerful gumarnthong by Luangpor Tae WatSamngam.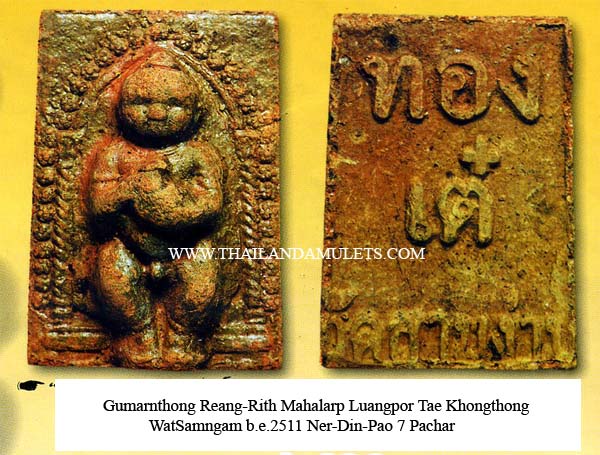 Very rare at present to see Luangpor Tae's gumarnthong amulet, size 2.3×3.5 approx. This is one of the precious batch Gumarnthong Reang-Rith(Powerful) Mahalarp(Great Luck) by Luangpor Tae Khongthong WatSamngam b.e.2511 made from Ner-Din-Pao(Burned earth soil) Jed Parchar 7 graveyards, 108 herbs, backside "Thong" "Tae" "WatSamngam". Powerful blessing wealth and prosperity.
Posted in many magazine, powerful blessing, genuine Lp.Tae's gumarnthong at Thaillandamulets.com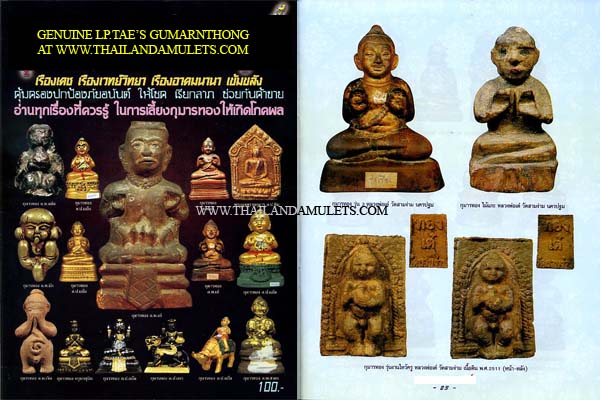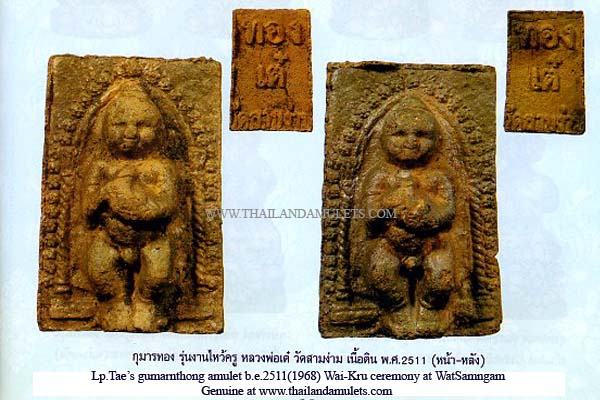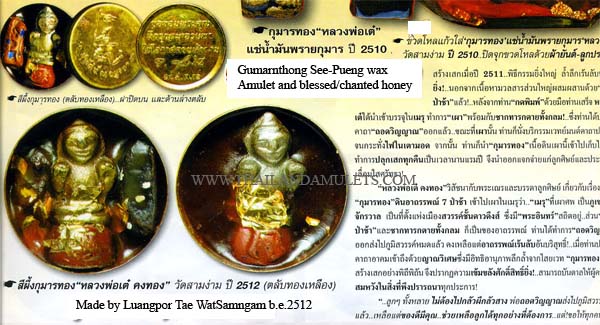 Come with brass case, front side "Suthat Na Ayuttaya", backside "Thank you for visted the ceremony 24 August b.e.2512. Powerful made blessing honey wax by Luangpor Tae Khonthong himself from WatSamngam, inside have his gumarnthong amulet living together with chanted honey. People can use this honey on their forehead, lip, center part of the head for blessing strong charm/attractiveness, love and respect from people around. Very powerful, once done can use the amulet for wear or can keep the whole case like any Gumarnthong for their blessing. Rare and precious Lp.Tae's gumarnthong.
Gumarnthong batch B.E.2510-12's mantras by Luangpor Tae Khongthong
For people who invite Gumarnthong to worship. To protect their home, lands/property or to help in business/career, fast wealth luck fortune, purpose nagotiate must alway worship to Gumarnthong. When had see the result successful or better, then can buy gift for Gumarnthong ex necklace, pendants, toys etc.Gumarnthong will be satisfy. Alway mentioned your purpose to Gumarnthong so they'll help. Don't place gumarnthong in the same place with Buddha statue, have to be lower level. ( Gumarnthong by Lp.Tae is powerful, not only for pray. But must be ask, when result success then offer as promised.)
Mantra worship Gumarnthong
The mantra worship Buddha, Dharma, Sangha
Na-mo-tas-sa Pa-ka-wa-toh Ar-ra-ha-toh Sum-ma Sum-put-tas-sa (3 times)
Following by this mantra for Gumarnthong
Put-tas-sa-bu-cha Dhum-mas-sa-bu-cha Sang-kus-sa-bu-cha Pa-ti-pa-ti-bu-cha Pa-wun-tu-may
U-ga-sa U-ga-sa , I'm inviting Gumarnthong to stay with me. For all good karma i have conducted in all lives come to stay in the Gumarnthong, all luck occur to me from 8 directions, everyway everyday non-stop same with this Gumarnthong. Continue with all wishes purpose prayer want.. then pray 3 times. (Translated from how to worship Gumarnthong b.e.2510-12 by Luangpor Tae WatSamngam.)